Woof woof! HELLO HOOMAN, George the Smiley doggo here! Please forgive any spelling mistakes, using a keyboard is 'ruff' on my paws and i keep getting distracted by nextdoor's evil hellbeast (i think you hoomans call them kittehs?) that is walking all over MY garden.

Anyhow, today is #NationalDogDay (I learnt about tags from doggo social site 'woofer'!) and I have been asked to take you for a walk (wait, who said walk?! WALKIES?!) through the wonderful world of online puppers with my friends and canine comrades!
They say a good doggo is a hoomans best frien, and it's easy to see when you look at all we do for our masters. See what my friends have been up to: 
This heckin good gardenboye is helping his hooman with his stoopid veggeytables (they are like kibble but green and rubbish)
This brave pupper's master was lucky to be rescued from drowning in the nasty blu wet stuff!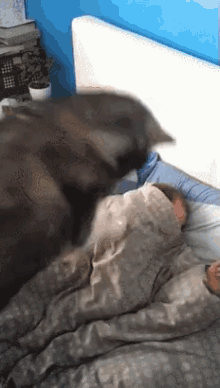 Clever boye does a clock so his hooman doesn't miss morning WALKIES. What a good boye!
My husky pal being a sitter for his master's little hooman pupper. He's doing a sing – Arooooh!
This smol boye is doing a play with his hooman. It's imPAWtant to keep them happy too!
I have to go now, I can hear master's loud wind machine pulling into the drive and I have to go bark at the door until i get bellyrubs. She's promised to take me over to my friends for his biRUFFday!
Take care hooman, and remember to give your perky pupper a treat today for being such a goodboye – make every day into #NationalDogDay!
LUV AND SCHMACKOS,
GEORGE x x x